​Welcome to
Fit & Fresh Meals!

Now Serving Fit & Fresh Juices
Healthy & Delicious
We are excited to bring you healthy and delicious Fit and Fresh Juices. Our juices are cold pressed and contain 100% juice, are non-pasteurized, non-HHP, and have NO ADDITIVES OR PRESERVATIVES. Choose from:
Sweet Beet
Strawberry Lemonade
Classic Carrot
Sweet Green
About Us
What Is Fit & Fresh?
Fit & Fresh is a meal prep service that caters to those who wish to lose weight, maintain weight, or choose to make healthier decisions on a daily basis.
Every week, Fit & Fresh releases a new menu. On that menu, you can find the menu for the week which includes the items served for breakfast, lunch, and dinner. Learn more about our easy process below.
How We Began
Fit & Fresh began as a personal journey. Our owner, Terrence, gained 70 pounds and found himself in a low place. Full of low self-esteem, depression, and lack of confidence, Terrence one day decided to start researching diet foods.
What started as a personal success story quickly became something he had to share with the community around him. When researching, he realized the lack of healthy, tasteful, affordable meal options for people in his community. A local church member asked him to meal prep for a non-profit football team, and after a year of being faithful to that, everything else fell into place.
Fit and Fresh came into fruition and the rest is history.
Ochsner Eat Fit Acadiana
What Is It?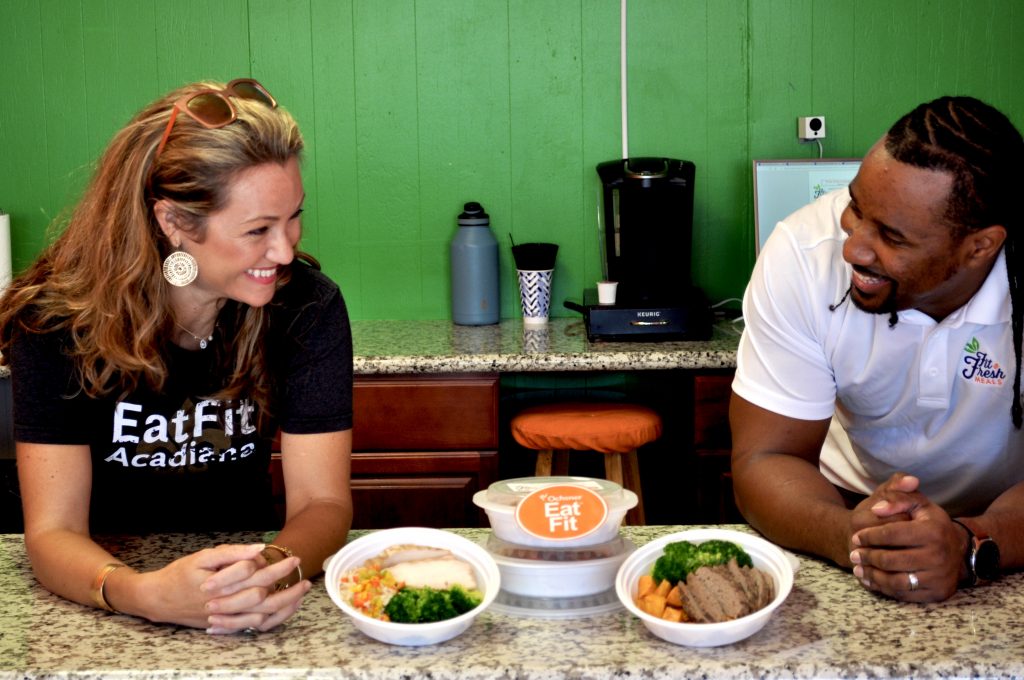 Eat Fit Acadiana's mission is to combine the community's passion for good food with their zest for life and enjoying time with family and friends. Eat Fit Acadiana is part of the Ochsner Eat Fit family, with support from the Blue Cross and Blue Shield of Louisiana Foundation.
Yvette Perrier Quantz, a registered dietitian with Ochsner Fitness Center, set out to take the guesswork out of dining out healthfully, to make the healthy choice the easy choice.
She collaborated and created the Ochsner Eat Fit, a program that encourages chefs to offer nutritious, delicious meals for those who want to eat clean, watch their weight, and manage diabetes, blood pressure, and cholesterol.
We are proud to be a certified Eat Fit Acadiana member and will continue with our mission of offering delicious and healthy meals to our community!
[powr-facebook-feed id=2fdef064_1582920559517]